The Connell Memorial Herbarium is supported by the Biology Department at the University of New Brunswick (UNB), and is housed in 3 climate-controlled rooms. There is one room for the cabinets that store the vascular plant specimens, one room for the algal collection and a workroom where the specimens are processed. The workroom contains a professional drying cabinet, reference materials and all the materials needed to prepare archival specimen sheets. The cabinet room also has working space with stereoscopic and compound microscopes, to allow close examination of plants.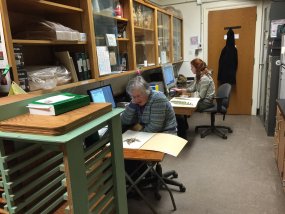 Researchers, students, visitors and volunteers are welcome, and the facilities are accessible by contacting the Director or the Technician (see contact us page). Currently, the facility is staffed on Wednesdays from 9 am to 2 pm, but other access times are possible.
Volunteers
Volunteers are appreciated and can help by identifying or mounting specimens, adding them to the database and filing them in the collection. They may also help with general office duties, such as emails, phone calls etc. In return, volunteers get an opportunity to explore the collection and learn more about plants!
Volunteer parking passes are available by emailing plants@unb.ca.
Equipment loans
We do loan out plant presses or other equipment to university researchers and students, but we require a deposit to encourage their return at the end of the project. We do not loan books, but visitors are welcome to use the books in the herbarium.
Tours
Tours of the collections, the herbarium, the research greenhouse and atrium are available for visitors of all ages. Simply contact the herbarium to inquire.
Submitting specimens to the Connell Memorial Herbarium
The herbarium welcomes additions to its collection from researchers, students, and naturalists. We do request that any additions have clear information attached that details the who, where, when and why of the collection. For specimens you wish to keep at home, you may prepare and mount the specimens here in the herbarium; we charge $0.60 per herbarium sheet to cover the materials cost.
To submit new items, contact the hebarium by email, and complete the Collections Submissions Form, available in MS Word format or PDF format.
Borrowing specimens
Collections are available for loans to herbaria.
To request a specific specimen for temporary viewing, please contact the hebrarium by email.
Should your request require the destruction of any part of the specimen (e.g. for tissue testing purposes), please read our policy on destructive plant sampling. If your request falls within these parameters contact the hebrarium by email, and complete the Destructive Sample Request Form, available in MS Word format or PDF format.